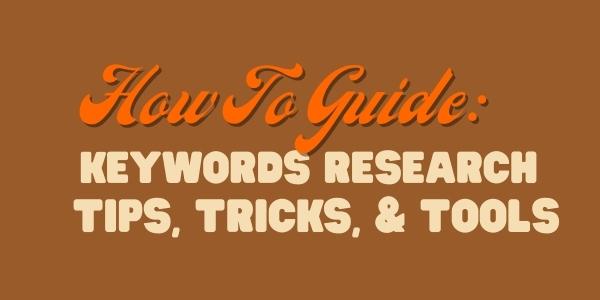 Before you start keyword research for your small business, you need to understand why you need to do it. Keyword research is a time-consuming process that requires careful planning and execution.
What Is Keyword Research?
Keyword research is understanding search data to help with Search Engine Optimization (SEO), find new users through search engines, and to create a list of words that users might use to find a product or service. Keyword research discovers adjacent or alternate words to describe a product, service, or business. Small businesses can use keyword research to find niche words searchers use to describe a business, product, or service.
The number one problem with keyword research is generating too many keywords. You could get overwhelmed with the thousands of keywords generated with all the available tools.
Before you begin keyword research for a small business, outline a written document to understand why you need to do keyword research. In the document outline:
The business mission statement.
A list of business goals do you hope to achieve.
How can SEO help you achieve your business goals? How will ranking in Google Search Engine Results Pages (SERP) help your business?
What type of content do you need to create to help you achieve the business goal (keyword research can help determine the content that needs to be made).
How is your product or service different from competitors?
Write a description of the ideal audience for the business. What words would these people use to find your website? How would you search Google for a product or service?
Keyword Research: Embrace Your Target Audience's Communication Style
Consider your business tone verse the customer's expectations. Internal corporate communication style may not translate to the end user's communication style. The exercise below walks you through a Google Search Engine Results Page Competitive Analysis. You can get a general idea of the tone and communication style used to help each brand deliver its message to the user. In your content, use keywords that the end-user typically uses to describe a product or service – not your internal corporate words.
Here's an exercise in understanding the different styles of communication:
Use Google Incognito to search on Google (Don't use your regular Google browser. Recommendations are tailored to your personal search history).
Type in your product or service.
Who are the first four websites in the search engine, and how do they word their headlines and descriptions? Which words does Google bold?
Look at the bottom of the SERP page. Are there any related search results? If there are related search queries, write all of those keywords down and add these to your keyword seed list.
Did Google's search bar give you auto-complete or suggested terms? If so, write those terms with your related keywords. Look at the overall SERP page. What types of results do you see (Google Ads, Google Ads Shopping, Google Ads Local, Video content)?
Keyword Research: Understand Your Product or Service
The most important aspect of keyword research is to know your products or services. Keywords can be descriptive. Users may add modifiers to keywords [free, new, old, antique, clogged, hair, a color, etc.]. A modifier can also change the meaning of a keyword. Take caution when you have a high volume trending keyword. Just because the high volume does not mean it fits your business or brand. Enter the keyword into a social media platform like Twitter to learn why (the context) and the meaning.
The following exercise in your keyword research process for a small business:
List at least two products or services your business offers.
Write at least 3-4 things that make your product or service unique for each listed product or service.
Keyword Research Tips For Small Businesses
Consider the buyer's journey to purchase your product or service. What are the touch points during the customer interaction? Telephone conversations, text messages, and email communications can help inform how users view a product or service.
You probably have very little customer data available to build user personas if you have a new business. However, if you have customer data, create a user persona based on this information. The way the person speaks writes, and interacts online will determine how the users type keywords into a search engine.
Avoid trying to rank for single keywords like "bakery," "plumber," or "marketing." Single keywords are high competition keywords, and you have very little chance of ranking high in Google for these search terms. Remember, your small business is up against corporate giants with deep pockets to spend SEO.
We should use keywords to find our target audience is the primary question of every small business that decides to start Search Engine Optimization or Search Engine Marketing.
In what context do you need to do keyword research? Youtube, Blog, SEO, Pay Per Click, website.
If you are starting keyword research, focus on the goals of a single landing page.
If you are expecting top-of-funnel users (new informational searches), what type of keywords do searchers use in search engines? Are they asking questions about a product or service? Are they looking for more descriptive information that signals they are in the middle of the funnel? Or does the search use keywords with a "buy intent"?
Craft user journeys before building landing pages. You may discover that you need to develop more than one landing page for each stage of the buyer's journey.
Don't get overwhelmed. Start with a two-word query search in your choice of keyword research tools.
When starting, only use 2-3 keyword research tools.
If keyword research is for Google Ads or Microsoft Advertising, try to use more phrase-matched keywords verse broad match keywords. Broad match will match anything close to your keywords of choice.
Look on forums or other websites with comments to discover users' pain points. Sometimes users may describe a problem in different terms. Find synonyms or other ways a search may enter a search query into a search engine.
Search volumes are an estimate of the average monthly clicks for a keyword. Look at the monthly traffic for the keyword to determine if it's seasonal. Holiday-related keywords and seasons are time-sensitive keywords.
Search Engines and Keywords
Keywords are the primary method of content surfacing in search engines. User type search queries into the search bar, and a list of results are returned to the user.
Web crawlers are optimized to index contextual data. Search bots need written language to understand the information presented in the content. Search engines surface relevant content based on the user's search query. Search engines can return various content, including written blog posts, PDFs, videos, and auditory content like podcasts.
Process of finding words that accurately describe how users search for a business, service, or product.
Keyword research is about categorizing keywords into search intent,
How To Do Keyword Research For A Small Business
Choosing The Best Keywords With Seed Keywords
How do I choose keywords for my business?
You can make mistakes in choosing keywords for your business. If you are doing keyword research for paid advertising platforms, there's a quick guide on 6 Keyword Mistakes Made With Google Ads.
A. Start with a list of words that describe the product, service, or topic/category.
marketing, digital marketing, content marketing
plumber: water heater installation, drain repairs, gas line repairs
bakery: cakes, cookies, pies, bakery in Memphis
B. Think about customer service interactions. How do customers describe their problems when they contact your small business? "I need to grow the number of customers for my business, but I need a more professional website." "I want to get found online and drive more business." "I would like to explore Google Ads and SEO." " I need video content creation help." "I have a leaky faucet." "My water heater does is not working." "I am having a birthday party this weekend for a three-year-old." "We are having a 50th birthday party celebration. The birthday girl likes chocolate cake".
5 Localization Keyword Research For Small Businesses
If you serve a small localized community:
Localize keywords by zip code, city, or location point—[bakery near me, bakery Cordova, bakery within 5 miles of me, bakery in Cordova. ← Location-based keywords show intent to contact services closer to where they live. The type of query is an informational or research query.
Localize to a specific keyword category: who makes the best cakes near me? Examples:

Bakery that sells German chocolate birthday cake, bakery that sells German chocolate cake near me, or bakery that sells German chocolate cake 38111.
Purchase intent, most valuable keyword, a competitive index for this keyword is exceptionally high), use Google Ads local search ads, use Google Ads, SEO product landing pages with these terms, landing pages: include contact information via a phone number ←Customer service is an essential factor to gain new customers. Have an order management system in place!

Consider exploratory keywords and create localized content for users.

Create a tutorial on making a moist multi-tier German chocolate birthday cake).

Localized long-tail keywords improve SEO, help a small business gets found for a long-tail keyword, and you can use affiliate marketing to sell products mentioned in the tutorial (or sell through your e-commerce website).
Bonus tip for small business bakeries: You could even sell the complete ingredient kit locally to users and make the video a demonstration on how to make your own. The video and companion content is the way to find local individuals who want to make their cakes.
Tips for keyword research:
Don't focus on the search volume of keywords. Focus on the way people search.
Google uses Natural Language Processing, Machine Learning, and Artificial Intelligence to curate search engine pages. However, user search intent and relevant content are the two most significant factors in ranking in Google SERP.
Every time you create content, you must do keyword research. Optimize Youtube videos with tags and keywords; Google Podcast Search feature requires podcast episodes to have accurate descriptions and titles; SEO blog posts with keywords to get found in Google; When you add a new product or service, you need to do keyword research on how people search online for the product.
[Free or Best] Keyword Research Tools For Small Businesses
Choose 3-4 of the tools below to help with keyword research. It's cost-prohibitive to use all of the paid keyword research tools. In the beginning, start with free keyword research tools.
Brain Storming Keywords is the easiest way to start a keyword list. Think of all the ways a person can describe your business. List all the alternate ways people would search for your business online. You also want to write down "purchase intent" words. Intent keywords assist in segmenting the types of content to create after doing keyword research.
Google Tools For Organic and Paid Keyword Research
Google Trends is a simple tool free keyword research and topic generation tool. Start with Google Trends to seed your keyword list and to determine if the the list of keywords you brainstormed have any search history or determine seasonal trends for keywords. You can also find alternate keywords to add to your brain stormed list. This tool is great to analyze Google Search's organic trends over time.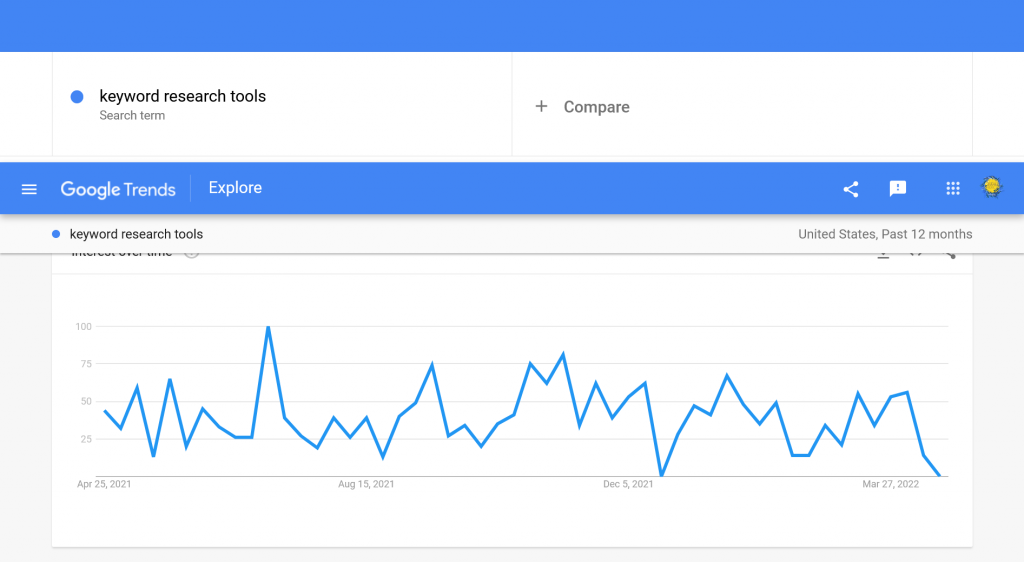 Google Analytics no longer provides keyword data from Google. Connect your website to Google Search Console to find which landing pages are ranking in Google's organic search. Google Search Console is 100% free. GSC has a comprehensive list of keywords, positions, and the impressions. Make GSC the go to tool to measure how well your keyword plan was implemented. Keywords don't work without a content marketing strategy.

Google Ads Keyword Planner proves a free keyword research tool. However, you will be required to create an account and provide a credit card to use Google Ads Keyword Planner tool. You don't need to spend money to use Keyword Planner. The planner does not have a ton of "purchase intent keywords". This tool is great if you plan to run ads on Google Search.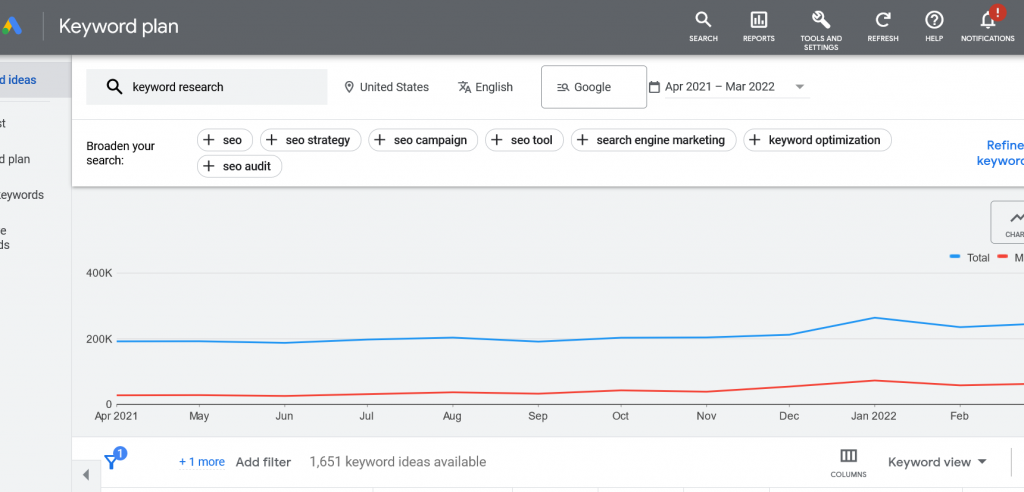 Google Suggest takes a bit of work. In the search bar type your keyword and let the autos-suggest give you more related keywords. Google Search also has a section called related search terms. Add these keywords to your brainstorm list to compile a list of potential keywords and topics to write content.
Paid Tools For Keyword Research
SEMRush has limited features unless you pay for the premium edition. SEMRush is also an expensive tool that you can use for keyword research and for SEO. SEMRush's features are robust including backlink outreach tools, site audit, and a topic research tool to assist with content creation. Pricing for SEMRush starts at $119 per month. Again, if you are a small business just starting your keyword research journey, then this tool may overwhelm you. You can find gaps in your keyword research.

Moz Keyword Explorer – limited unless you pay for a premium addition. I have tried Moz Explorer tools for keyword research. Moz keyword planner tool is simpler than some of the other tools listed below. The premium features of Moz keyword research tool are priced at around $149 per month. Moz can also be used to manage SEO. If you don't plan to use this tool often, it's not worth the expense. Use a keyword research service for small business, like Cliively.
Want a serious keyword research tool for paid marketing campaigns? Spyfu is the tool to look at first. I have never used Spyfu, but there are several in my industry who have. I have heard many great things about it. It's one of he less expensive keyword research tools, at only $39 per month. Use the tool to do competitor analysis, back link analysis, and rank tracking.
Organic & Paid Keyword Tools For Bing
Bing Webmaster Tools has a limited keyword research tool. It's does not have all of the bells and whistles like Google. However, his tool is specific for Bing organic search. If you plan to use Microsoft Advertising to market your small business, use it's keyword research tool in conjunction with Bing Webmaster tools to explore keyword ideas.
Keywordtool.io has a limited keyword research tool. You can use keywordtool.io for Amazon Ads, Bing Ads, Youtube, and more. The tool uses scrap's data from Google. Keyword research is limited unless you pay for a premium plan. Keywordtool.io is a simple tool if you don't need anything fancy. The interface is simple and you can download keyword list.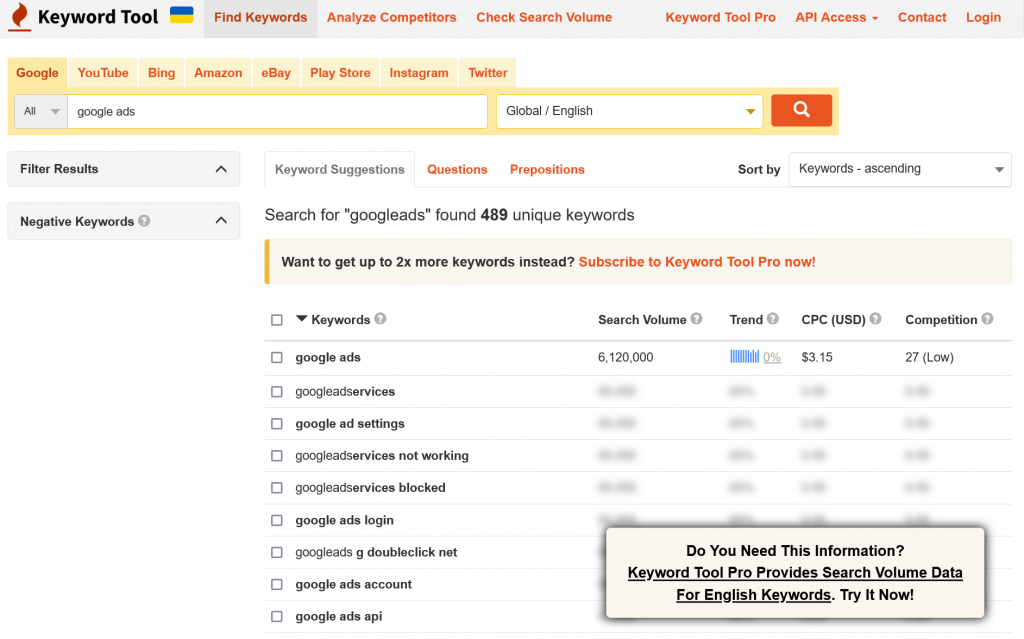 aHrefs is a powerhouse for keyword research and checking back links. It's one of my favorite keyword research tools to use. Check competitors keywords and discover tons of potential keywords for your business. aHref's offers a 7 day free trial, but the monthly plan is expensive at $149 per month. You can manage a website's vital health points.
Social Media For Finding Topics
There are some SEO experts who consider social media hashtags as irrelevant to keyword research. We are the opposite. New verbal or written trends usually start on social media websites like Twitter, Facebook, Pinterest, Instagram, Tik Tok). Start by typing in a keyword in a social media platform. Then look at the conversations around the keywords you chose to research. It's important to understand how people use words in context of conversation, because it's also the way people use keywords to search online.
Social media platforms don't use traditional keywords, instead they use hashtags. You have a ton of options for hashtag research and again each is platform specific.
Explore Unexpected Places For New Ideas
Forums like Reddit and Quora are a treasure trove of ideas and keyword ideas. Forums are about understanding the context of a conversation. Words can have different meanings and you want to be careful of the keywords you choose for your website. The wrong keywords could have a disastrous effect. Words often change meaning over time. So, take the time to learn the lingo.
Answer The Public is a free tool to find new keywords and discover questions that people ask about a topic. Find topics for your content marketing strategy to drive positive results
Your website's search bar using Google Analytics can pull the best keywords to learn what your target audience is actually searching for. Analytics tools (or even your content management system) can pull the words that people use to find products and services.
Here are some honorable mentions that I have never used School, Jaxxy, and Keywords Everywhere. I have never used any of these tools, but many others have.
Keyword Research Tools For Amazon Ads and Youtube
You also have platform specific keyword tools, like Tubebuddy and VidIQ for Youtube. There are keyword research tools for ecommerce and Amazon. Some of the tools mentioned above won't work with these platforms. Most of the tools listed are for organic and paid search marketing.
Amazon is a search engine on it's on. Don't let the large ecommerce platform fool you. Amazon sellers need keyword planning tools like Jungle Scout and SellerZone. Google has a comprehensive set of tools to find organic keywords.
Advance Keyword Research Tools
Many SEO experts are moving beyond these basic keyword tools to add machine learning and artificial intelligence for keyword research. Keyword clustering millions of keywords at one time takes too much time for a team of people. Instead, ML assists with clustering based on criteria defined by the team.
There are many experts over on Twitter discussing keyword clustering to improve organic SEO efforts. Google Ads and Google Search make use of many algorithms such as TF-IDF (Term Frequency-Inverse Document Frequency), sentiment analysis, and natural language processing to process large sets of keywords. Keyword research will continue to evolve over the next few years to match search engine algorithms.
How To Get Keywords To Rank In Google
Keywords cannot rank in Google without content. The type of content you produce depends on the user intent of the keyword, the search location, SEO content, and so much more. Keyword research is the first step in your content marketing strategy.
Keywords can assist with developing topic ideas for landing pages, videos (Youtube, Facebook videos, Twitter, Tik Tok), or audio content (podcast). Keyword research allows you to understand the current search trends for your target audience.
Developing a keyword research strategy- Start with an idea.
You have a goal that your small business wants to achieve. It would be best if you narrowed down the idea of the content topic to start with keyword research. For example, a bakery could narrow down to by types of cakes and create unique landing product pages for each cake, a category of cakes, based on why the user is searching.
Gather your tools – Get to work – My step by step process
Use the right tool for the right job. If you are planning a Google Ads campaign, use the Google Keyword Planner tool, Google Trends, and 1-2 additional tools to assist with building a keyword list for your small business. It's cost-prohibitive to use every paid solution on the market. Manage your small business marketing budget by selecting the best-fit keyword planner tool.
Keep things organized by using spreadsheets to collect and store keyword data. Spreadsheets can be used to segment keyword lists into different categories topics, along with each keyword's metric (search volume, estimated clicks, competitive index). You can also use the spreadsheet to start a seed list of keywords.
First, you want to use Google Trends to create a list of seed keywords. Google Trends is the best method to discover related queries, related topics, and interests over time. Once you have generated a list of 5-15 seed keywords for the topic, get an idea of the topics around a keyword from Google Trends.
Second, enter one of the search queries from Google Trends into Answerthepublic.com. Download the file generated from the keyword. You can get search queries for multiple keywords. It takes time, but it is worth the process.
Third, optimize the keyword list. Clean, sanitize, and normalize keyword data. Don't skip this step. The keyword list from Answer the Public may have irrelevant search queries. Take the time to remove (clean) data that does not fit. Any repetitive keywords need to be removed (sanitize). Segment the keyword list based on topic ideas, user intent, and other standards (normalize). Latent Semantic Indexing is a machine learning process that helps determine the relevancy of a group of keywords.
Fourth, you can plug those keywords into other keyword planner tools such as Google Ads, Ahrefs keyword planner tool, or SEMRush. These tools will create additional keywords; however, you will now have estimated search volume data for the keyword list. You need to go through cleaning, sanitizing, and normalizing your keyword list.
You should have a pretty good keyword list to generate topic ideas, content, and landing pages.
Google Keyword Planner Tool will create a list of keywords with search volume estimates and a competitive index. Choose keywords with search volume and a low, competitive index. A 100 in the competitive index field equates to a hard-to-rank keyword. Ranking in Google search would be challenging without a strong SEO marketing and backlink strategy.
Why use multiple keyword planning tools?
Unfortunately, no tool is 100% accurate with the keyword data that it provides. The Google Keyword planner tool omits "intent" keywords and pulls generic keywords. For example, keywordtool.io uses the search engine's auto-complete list to pull back query data. However, it's unknown where the estimated volume and competitive index derive. Ahref uses scraped and crawled query data for its results.
Keyword research analysis
I drop the Keyword List provided by the keyword planner tool into a spreadsheet application. I then begin classifying the keywords based on user intent, topics, and categories. Each list of keywords becomes the basis for a search engine optimization keyword strategy.
Keyword research requires time to research, analyze, and classify keyword data. Artificial intelligence tools and machine learning can speed up the process. However, I have found that the process is not as accurate as manually creating and analyzing keyword lists. Once you understand keyword research, incorporate machine learning tools to analyze keyword data.
What your small business should know about the Competitive index in keyword research.
The competition, competitive index, or competition (index value) scale ranges from 0 to 100. It shows you how competitive a keyword will be to rank in a search engine. The closer to 100, the harder it will be to rank the keyword. If you are a small business with limited resources, these keywords usually have a high cost per click and require huge pay-per-click budgets. If you plan to SEO high competition keywords for your small business, this keyword will need dedicated resources (financial and time) to rank for the keyword.
Estimated Search Volumes vs. Clicks
Some keyword planner tools provide estimated search volume. The estimated search volume is a guess. The most accurate tool to "guess" estimated traffic is Google Keyword Planner Tool, Bing Webmaster Keyword Tool, or Microsoft Advertising keyword planner tool.
Potential Traffic
Optimize keyword list for location – by country, city, state, zip code, or geographic target
Analyze keyword research results
Google Search Console and Bing Webmaster Tools are perfect tools to analyze whether your keyword research has improved traffic or if keywords are ranking in either search engine. Monitor keyword traffic by landing page. Use a spreadsheet to compile the keyword data.
If Google Search Console generates keywords, make a list of search queries that can be improved (average position > five but < 25). This keyword will be the easiest to improve in Google Search. Keywords with an average above this need additional work or are not Search Engine Optimized. Optimizing pages for a keyword could be as easy as adding additional keywords to heading tags and metadata. SEO for the keyword with an average position >25 may also need complex optimization such as a backlink strategy to help the keyword improve in position. Competitive analysis tools like SEMRush or aHrefs can analyze SERPs and provide competitive analysis for a keyword. A domain's authority can be enhanced through a backlink strategy.
Note: Google Search Console and Bing Webmaster tools do not provide a 100% view of all a website's keywords.
Final Thoughts
I may have missed a few steps may have been in this blog post. Subscribe to Cliively's Email List to get notifications when new blog posts and Youtube videos on keyword research will be released. Cliively's team will release walk-through videos on several keyword planning tools mentioned.
If you prefer to hire an expert to do your keyword research, reach out via Cliively's contact form. Let us know how we can help you.
BE THE FIRST TO LEARN ABOUT CLIIVELY'S TUTORIALS ON KEYWORD RESEARCH FOR SMALL BUSINESSES